The #Prioritised #ToDo List, the Secret to #Success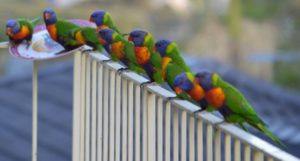 When a colleague asked me how I did my planning, I showed her my ToDo list. She promptly dismissed this with "Oh just a ToDo List" and walked away. Perhaps I should have taken more time to inform her how I had arrived at this list.
Arriving at a Prioritised To Do list is the end of a process. It starts with identifying what your values are. Based on these values, you need to decide what long-term goals align with your values. Only after you have done this are you are ready for the daily planning routine. Your To Do list has to reflect your goals and your values. Without the effort to identify your values and goals, you will achieve a suboptimal result rather like trying to throw a spear without a shaft.
You need to set aside a time every day to create the ToDo list for the next day. Perhaps on the train or bus home after work with you noise canceling headphones on.
First, list everything you would like to achieve the next day regardless of importance.
Next place the following alphabet next to each task in the list:

A, must be completed
B, should be completed
C, optional to complete
Now go back to A and assign a number next to each A with 1 being the most important e.g. A1, A2, A3 etc., Do this for B and C as well
Arrows and Dots: On Day 2, start by executing the A list in order of priority, then the B one. At the end of the day, during your scheduled planning session:
Place an arrow next to incomplete tasks and move them to the next day (Day 3 in this case)
Place a dot next to tasks partially completed and move them to the next day.
Start the list again.
My sister first introduced me to the #Franklin Planner by giving me the leather folder and inserts for Christmas. Fortunately for me, I took the time to investigate further and came across "10 Natural Laws of Successful Time and Life Management" by Hyrum W. Smith as mentioned in a previous blog. Years later, when on a trip to the US, I told my sister how important her gift had been to me. She put a finger to her lips and said, "Ssh, it's the Secret to Success."
The paper planner first gave way to an electronic one on the #Palm IIIc, then on the #Blackberry and now, in its latest avatar, to the iPAD. Though the media has changed, the planning process I follow remains the same as it was all those years ago.
Check us out at http://www.cloudriverdale.com.au